Extrusion Tooling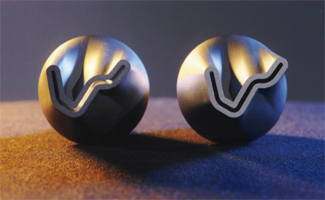 As our customer base has expanded we have become more and more involved in the building of extrusion tooling. At first it was something that we just stumbled upon but after working within the extrusion industry for a period of time we realized what a perfect fit Wire EDM was for the construction of Extrusion Dies and many other associated components.
We have built tooling for profile extrusion, automotive sealing and gaskets, and medical tubing in relatively equal numbers. The largest die that we ever built produced a part that was 22" wide and 4" tall. The smallest die that I can remember made a piece of medical tubing that was less than 1/8" in diameter and had 5 lumens (openings) in it.
At EDM Wirecraft we do not claim to be experts in the design of extrusion tooling. Our expertise is in finding ways to take an
idea that a customer has for something that he has not been able to do before and finding a way to turn this idea into reality. With our capabilities for cutting tapers we have often let the engineers and designers that we work with design a tool that was what they really wanted, and not just what they had to settle for. Being able to provide our customers with this type of support and assistance helps make our work very rewarding Each customer's needs and requirements are different and this is part of the challenge as well.
Some customers approach us with little more than a concept, while others may send us a complete design. Most jobs seem to fall somewhere in between.
In addition to dies we build insertion/extraction/deflection test fixtures, sizing equipment, post forming fixtures, die heads, unusual adapters, and pretty much anything else that our customers may need.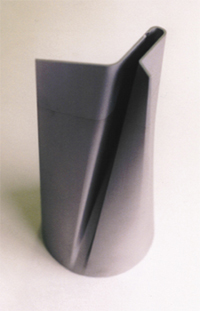 The two upper most photos that you will see on this page are of some parts for an automotive application extrusion die. These are guides that introduce a wire carrier into the flow stream of material around it. We have made many of these parts in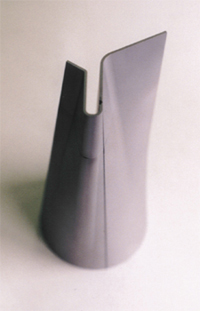 many different styles, but I like the one piece ones like these the best. They are often a bit of a challenge to make, but the successful completion of a part like this tends to give one a great sense of pride in their work.
The last three photos are of a relatively simple extrusion die that we built some years ago and two of the slugs that came out of it during the Wire EDM process. As you can see from these slugs, almost no taper is impossible for us to cut. With the taper capabilities of our Charmilles Wire EDMs, we can streamline these dies in just about any fashion imaginable. We can fatten up an area to add more restriction and direct flow elsewhere. We can remove more material in an area that may be difficult to fill and thereby enhance the flow to that area. Our goal is to build a high quality tool that looks good, meets the customer's requirements, and makes good parts. When we can do this, we feel like we have done well by our customer.
Although I do not have any photos, we also build vacuum sizers. Some people call these dry sizers. We have had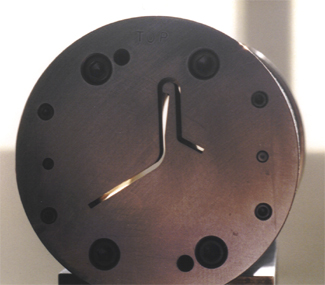 very good success with these and I suspect that many people who read this will have encountered and used this type of sizer before. We work very closely with David Friedwald of Extrusion Die Technologies, Inc. He is the creator of the concept that we use and he works with us on a consulting basis. Dave is retired, sort of anyway, enjoys playing with his grandchildren immensely, and has a very enjoyable time sharing his vast knowledge of the extrusion industry with us. He will design complete die and sizer sets if the customer so desires, and is capable of handling almost any problem that you may encounter.